интервью
"We're socially inept, basically" (93-94)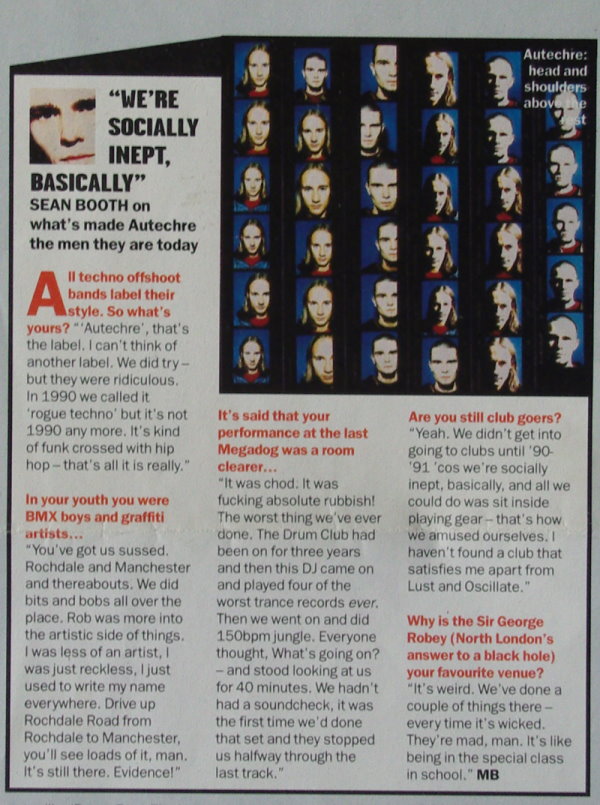 Sean Booth on what's made Autechre the men they are today
All techno offshoot bands label their style.So what's yours?
"'Autechre', that's the label. I can't think of another label. We did try - but they were ridiculous. In 1990 we called it 'rogue techno' but it's not 1990 any more. It's kind of funk crossed with hip hop - that's all it is really."
In your youth you were BMX boys and graffiti artists...
"You've got us sussed. Rochdale and Manchester and thereabouts. We did bits and bobs all over the place. Rob was more into the artistic side of things. I was less of an artist, I was just reckless, I just used to write my name everywhere. Drive up Rochdale Road from Rochdale to Manchester, you'll see loads of it, man. It's still there. Evidence!"
It's said that your performance at the last Megadog was a room clearer...
"It was chod. It was fucking absolute rubbish! The worst thing we've ever done. The Drum Club had been on for three years and then this DJ came on and played four of the worst trance records ever. Then we went on and did 150bpm jungle. Everyone thought, What's going on? - and stood looking at us for 40 minutes. We hadn't had a soundcheck, it was the first time we'd done that set and they stopped us halfway through the last track."
Are you still club goers?
"Yeah. We didn't get into going to clubs until '90-'91 'cos we're socially inept, basically, and all we could do was sit inside playing gear - that's how we amused ourselves. I haven't found a club that satisfies me apart from Lust and Oscillate."
Why is the Sir George Robey (North London's answer to black hole) your favorite venue?
"It's weird. We've done a couple of things there - every time it's wicked. They're mad, man. It's like being in the special class in school." MB